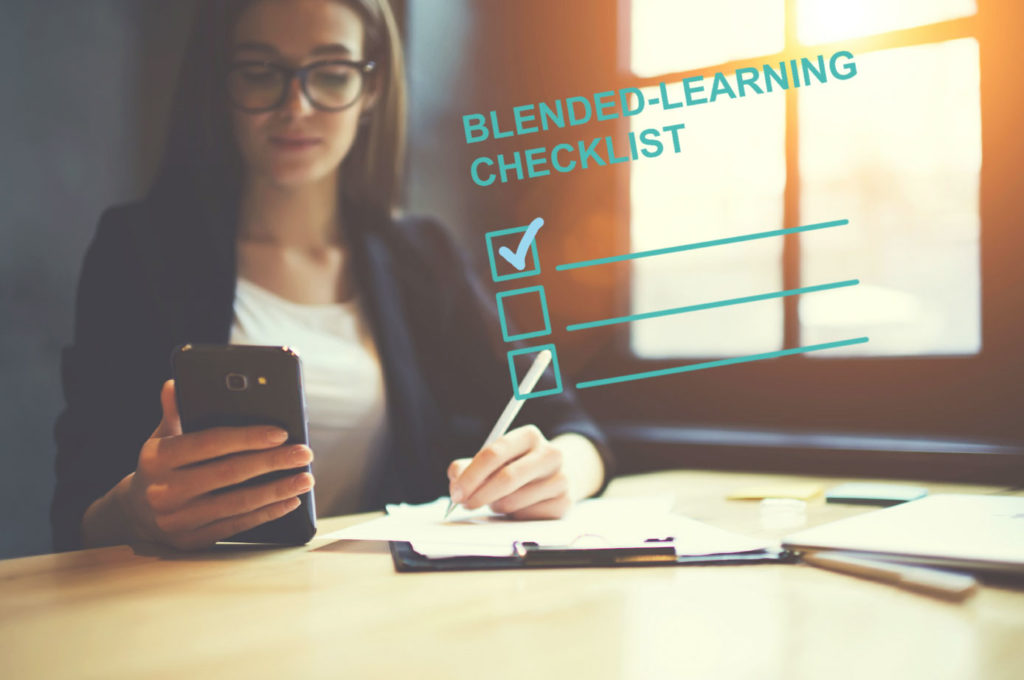 Are you thinking of bringing your training company to the next level by extending your training catalog with a digital learning solution? Smart move! Blended Learning has the potential to combine the best of two worlds – all the unique advantages of in-person instructor-led training with all the benefits from e-learning and digital tools. And thus it ensures you higher customer satisfaction, retention, and recommendations. (Read more about the benefits here.)
And yet, it's no easy feat to choose the best digital tool for your needs! Drawing from the years of experience we have as trainers and developers of a digital learning solution for blended learning, we created a comprehensive checklist for you!
Our checklist includes aspects regarding the features of the tool, the software provider, pricing, and marketing. It provides a list of important points for every aspect and related tips and questions. This checklist will support you to choose the digital learning solution, which fits your needs best. Let's go!
Before you start looking, be clear on your blended learning strategy
Before you choose a tool and get the maximum benefit out of this checklist, you have to be clear on your strategy. Here are a few questions, to support you gaining clarity for your blended learning programme.
Why are you choosing to implement blended learning? What are your goals?
How will your in-person training and the e-learning part interact? Does the digital tool come before, during or after the in-person trainings? (Read here a bit more about different options.)
What do you want to use the digital tool for? For example, is it about providing more content or about encouraging people to try things they learned – or both?
Who is your target audience, what kind of users will be using the tool(s)? Are they digitally savvy? Are they open to new things?
What skills do you want to train with your blended learning programme?
Special considerations: Developing soft skills
If you are in the business of developing people (in contrast to conveying knowledge), you have to account for a different learning process – and so does the tool.
Soft skills – or as we like to call them essential skills – are based on personal traits, mindset, attitude, values, a general way of relating to the world. They are much closer linked to a person's core way of being than any other skill set. Personal learning is more than understanding. It requires a 'shift'. And that shift needs reflection, new perspectives, a-ha moments, etc. and the digital tool has to account for that. (Read more on this here.) Therefore, you will find a special item on soft skills in the checklist.
Go for "less is more"
The checklist contains a lot of different features. Luckily and most likely not all e-learning tools offer all of them! Because counterintuitively as it may seem, this is a good thing for you – and for your clients and their users. You won't need all of those features anyway.
You will profit much more from a few selected ones, which are in line with your personal blended learning strategy. Go for "less is more". That way you won't have to pay for features you are not using and the tool is easier and more intuitive for you and the participants of your trainings. This will make the implementation much more likely to succeed and ensures that your efforts bear fruit.
Checklist: How to choose the best e-learning tool for blended learning
Must-haves
Easy to use: A digital tool for blended learning absolutely has to be intuitive and easy to use – for you and your team as well as for your clients. No one likes using a complicated tool, so this is important to ensure that your investment in going digital pays off!
Engaging: Focus also on choosing a tool, which is engaging for the users for the same reasons. Features, which can make a digital tool more engaging are for example gamification elements, a variety of content presentation such as videos and images, or captivating conversations with a digital coach. Tip: Try a demo and see how well you rate these two aspects!
Learning Philosophy: Making sure the philosophy behind the tool shares your vision about trainings and learning. Keep this in mind, when you look at the tool, check out the website, and talk to the provider. Do they understand how training works and what you need? Do they know how people actually learn and grow?
Essential features & technical details
Learning Content: This is very basic, but check if the tool allows sending your own unique content to the users. (Sometimes simple tools only cover setting goals.)
Different Media Content: Next step, check what kind of formats are featured, like text, images, videos. Does it offer everything you need?
Supported Devices: What devices can the user use to access the digital learning solution? Does that fit your clients' needs? Is there a browser-based version? A mobile app? Tip: We highly recommend a tool which makes learning for users independent of time and location, like mobile apps!
Supported Languages: Does the tool support the languages you require for your clients?
Optional features
In the following, we want to present to you a list of optional features. Quick reminder: You do not need all of those! Go for "less is more". Your users don't require all of those features to learn effectively. Make sure to know, which ones are the most important to you and match your trainings.
Content Library: Does the provider offer existing content for you to use/purchase? Tip: Deciding if you need this depends heavily on how many resources you have and what your clients will require. Purchasing content might be worth it if it helps you sell your trainings!
Reminders: Does the tool include a feature of sending reminders like push-notifications to users? Tip: This is crucial to ensure longterm user participation, we highly recommend this as a feature.
Goal Setting: Is it possible for users to set learning goals?
Collaboration: Are participants able to interact with each other in the tool?
Gamification: Does the tool include some kind of game-like aspect to motivate participants like for example being able to collect points, earning badges or doing quizzes?
Learning Journal: Are users able (and encouraged) to take notes on their insights or progress? This is really important for long term learning transfer.
Bonus: Requirements for soft skills and personal learning
Personal: Changing how you relate to the world is personal and as such emotional. Often, overcoming fear is a main factor for effective development. An e-learning tool should feel relatable.
Continuous: People just don't change overnight. E-learning for soft skills development should be like a fitness app, not like a one-time boot camp.
Multi-levelled: It's about more than understanding. Rationally grasping a concept is a good start. Personal learning also involves creating awareness, reflecting on past experiences, taking action and trying out new behaviours. A digital tool should encourage those processes.
Self-directed: Instead of having to follow the rigid logic of a course, the learner should be able to follow their own train of thought.
Software provider & support
Introduction to the Tool: How extensive is the introduction to the tool for you and the other members of your training company? Is there some kind of supporting documentation (e.g., how-to articles or videos, FAQs)? How well are things explained?
Support: What kind of support does the software provider offer for you and your clients (e.g., e-mail, chat, telephone, tutorials)? How quick are they to answer? Do you have a personal contact person or is it just an anonymous support hotline?
Collaboration with the Provider: Make sure the software provider understands your needs and you get along with the people you will start working with. Do they have a training background? Do they listen to your needs?
Content Creation Services: Does the provider of the digital tool offer additional services such as content creation? This is different than a content library, where you can buy existing content. Content creation refers to the provider adapting or creating content specifically and uniquely for you. By investing money in the creation of your content you save time. This in turn allows you to focus on sales and your core area: instructor-led trainings.
Price
Pricing Structure: What's the pricing structure? Does it fit your needs (e.g., number of users and time frame)? Make sure you don't have to pay for anything you won't use and ask everything you want to know. If you understand what you get for your money, it's easier to make a decision!
Discounts: Check if you can get a discount in some way. For example, often if you pay a yearly fee instead of monthly, you usually can save money. Or maybe the software provider offers a starter package for new clients?
Marketing & customer relations
Branding: Is there an option for you to brand the tool, so your clients can see your brand and your logo in the material you offer them with the digital tool? Here is an example of what that could look like in our mobile app.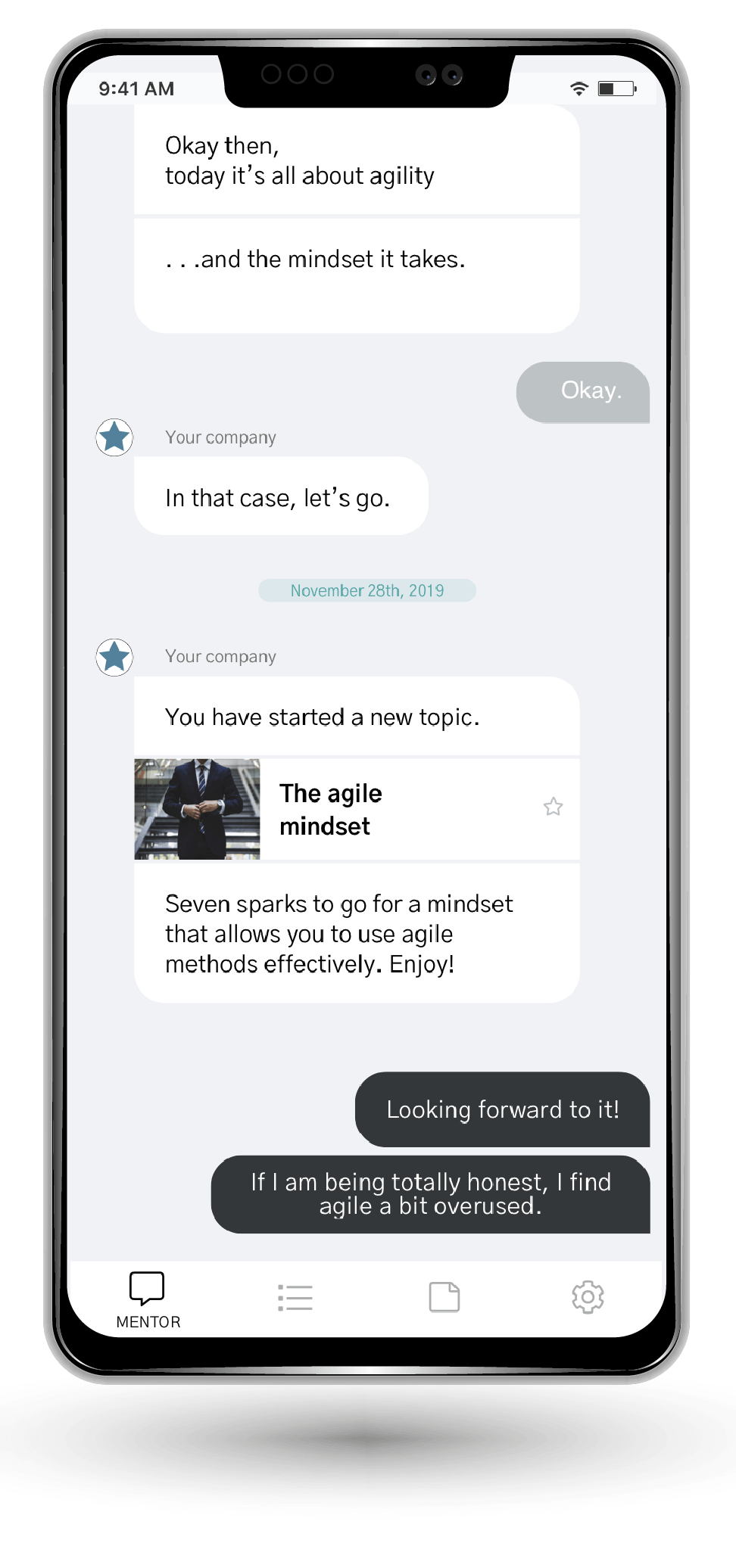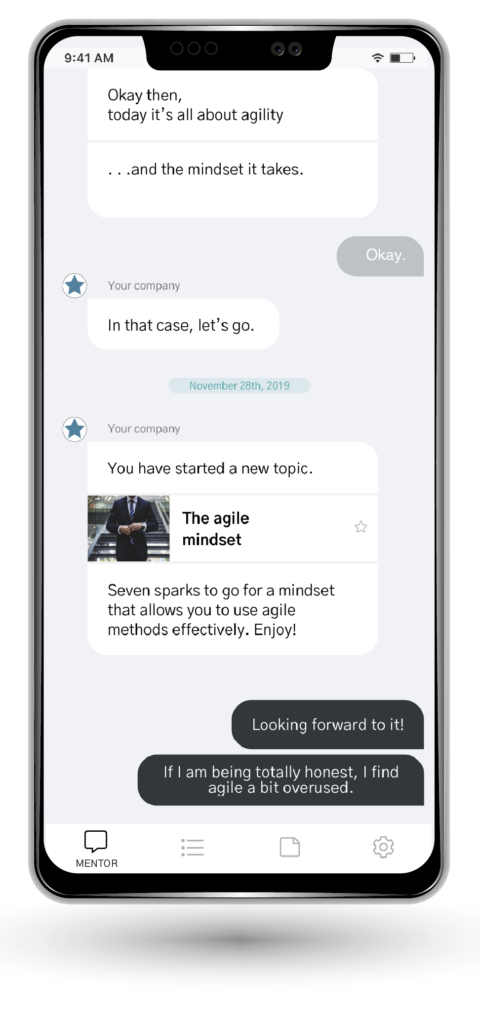 Marketing Material: Does the software provider offer you marketing material, which you can use for your own clients? Offering a digital tool is a great selling point, like showing your clients how much more sustainable your trainings are because of the digital tool you use. That's why it is very helpful to get some marketing material explaining the advantages of the tool to your existing clients and potential customers.
Evaluation: Does the software provider assist you in evaluating how well the tool works for you and your clients, for example via user statistics?
Recommendations & user ratings
Recommendations: Ask your network what tools they are using and how satisfied they are. Additionally, you can check out websites such as Capterra to see user ratings.
Best Practice: Moreover, it is helpful to read some best practice article on the website of the provider, so you get a better idea if the tool can be used in such a way as you need it.
---
Choose the perfect digital tool for your blended learning strategy
This checklist will support you in choosing the best digital tool for your own personal blended learning strategy and will thus make your training company ready for the future. More questions? Not enough time? Get in touch with us today and chat with our blended learning experts!Curious how Intao checks on your list? Request a demo for our mobile application designed specifically for personal learning!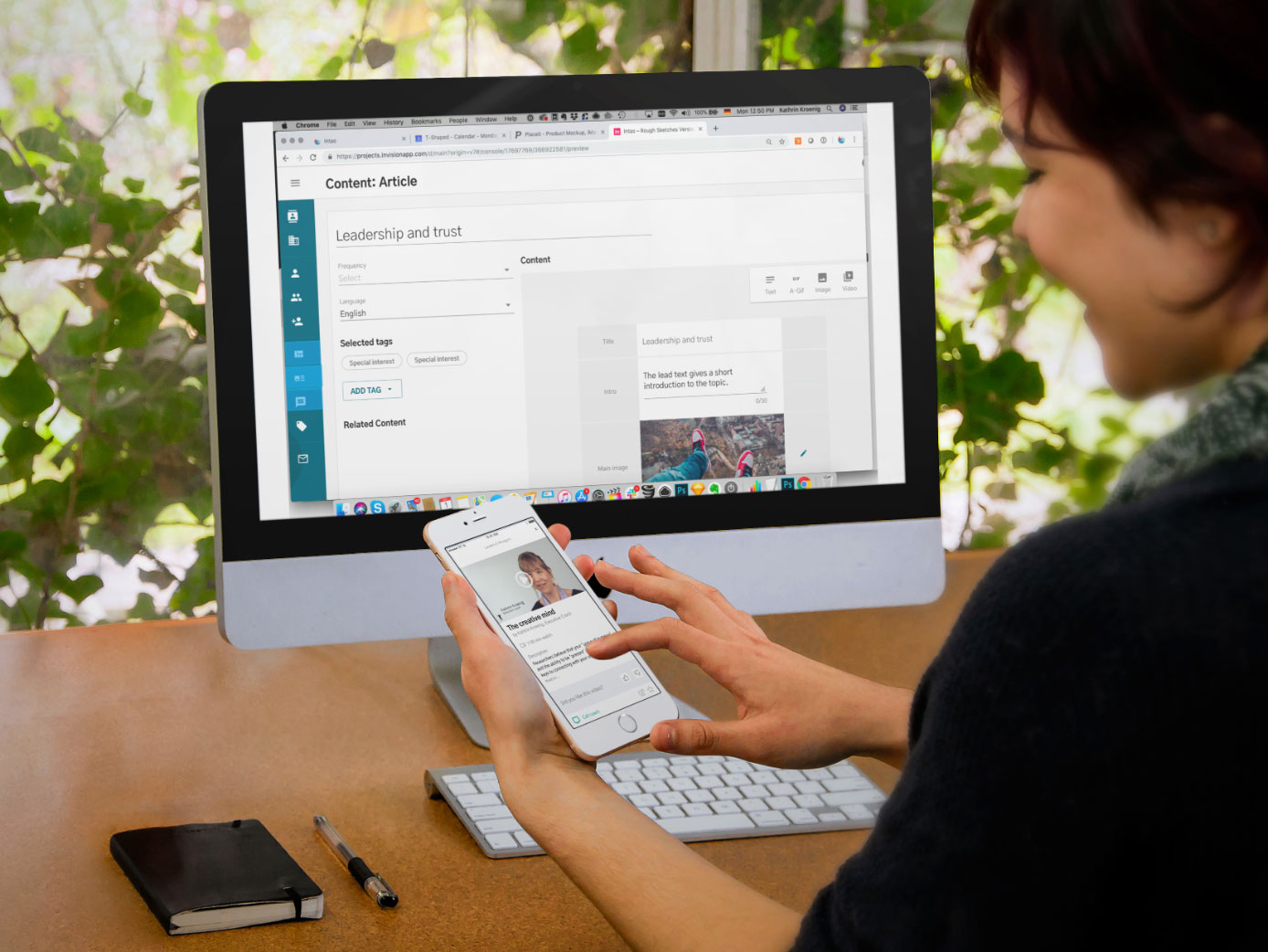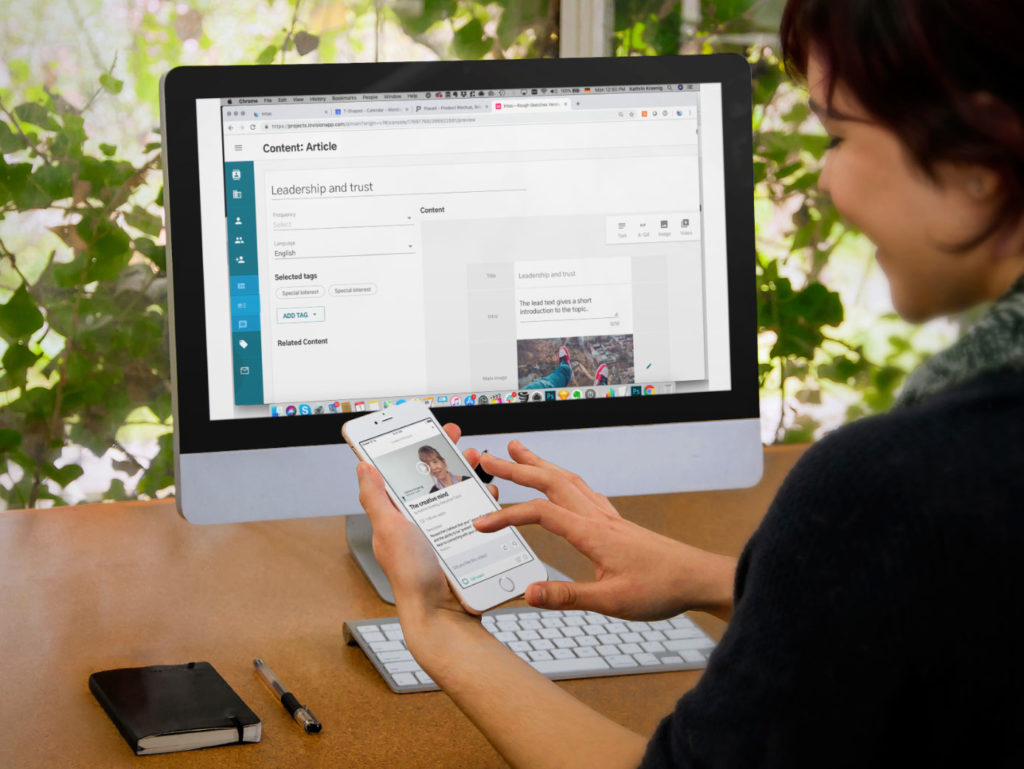 ---